Watch john spratt live
Doing what he does best
Right here you can buy tickets and see where John is going to be. John will be listing all of his Psychic & Mediumship demonstrations, Workshops, Paranormal Events and more!

To get started, just look below to see what events are coming up and when. Select the event to see more and purchase tickets!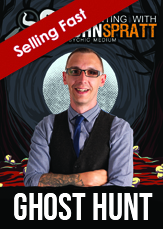 My Events
POW Camp - Ghost Hunt
Perth, Scotland |
November 29th 2019
| 21.00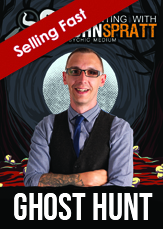 Join John Spratt, Erin & His Ghost Busting team as you spend the night in one ok the UK most haunted places, Camp 21 what prisoners still walk this prisoner of war camp? With sightings of dark figures and poltergeist activity this will be one location that should not disappoint.
Location - Cultybraggan POW Camp, Perth, Scotland PH6 2AB 
Doors open 20.30 and will shut at 21.00
Tickets are £40 each + booking fee 
Age limit 18+ only 
HISTORY & GHOSTS
The camp is one of Britain's best-preserved prisoner of war camps and has long been the subject of myths and legends - including a rumor it played host to Rudolf Hess- a leading member of Hitler's party whose plane went down as he flew over Scotland in 1941. The camp was also where Feldwebel Wolfgang Rosterg was murdered by fellow inmates. The infamous murder saw the prisoners turn on him believing him to be a British spy. This, along with other dark stories relating to the compound, could be why it has earned a growing reputation for being Haunted. 
Named PoW camp No 21, built in 1941 to house 4,000 Category A prisoners, Cultybraggan was a 'black camp', holding those considered the most committed and fanatical NaziPoWs, mainly young Waffen-SS, Fallschirmjäger and U-boat crew. Army, Kriegsmarine, Air Force, and SS prisoners were held in separate compounds, as were the officers. An additional camp was located at Cowden, two miles distant.
Ringleaders of the Devizes plot — to break as many as 250,000 PoWs out of camps across the country in 1944 and attack Britain from within — were sent to Camp 21 at Comrie. These included Feldwebel Wolfgang Rosterg, a known anti-Nazi who was sent by mistake. He was lynched, and five of the prisoners were hanged at Pentonville Prison for his murder, the largest multiple executions in 20th-century Britain.
Following the war, in 1949, Cultybraggan was opened as a training camp. It was used by the Regular Army, the Territorial Army and was popular with Cadet units for their annual camps. The camp covered some 8 acres and could accommodate 600 personnel in a mixture of huts and tents. Units rotating through the camp enabled 80,000 'man training days' of military exercising, including adventure training, cross-country driving, and helicopter operations, using the 12,000-acre Tighnablair Training Area, leased from the Drummond Estate.
THE EVENT
Join John Spratt and his ghost hunting team as you investigate the whole building carrying out many activities to try and communicate with any spirits they wonder the building. 
Seances with John 
Use of paranormal equipment
Daring experiments 
Use of ouija boards or just watch 
Table tipping 
Sensory deprivation experience 
Lone vigils 
And much more 
IMPORTANT INFO & SOME T&C 
This event will take place in the dark, please bring a torch with you for moving around the building. Due to The nature of the event please wear sensible clothing and footwear for all weather conditions. Please remember to bring snacks for the evening as we don't want to mistake a ghostly sound for a rumbling belly. You may also want to bring a camera with you to snap some photos or video. You're also welcome to bring any ghost hunting equipment with you. The event is for people ages 18 and over and we advise pregnant woman not to attend. Alcohol and illegal drugs are not permitted, anyone who attends under the influence will not gain entry and will not be refunded.