Watch john spratt live
Doing what he does best
Right here you can buy tickets and see where John is going to be. John will be listing all of his Psychic & Mediumship demonstrations, Workshops, Paranormal Events and more!

To get started, just look below to see what events are coming up and when. Select the event to see more and purchase tickets!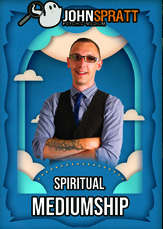 My Events
Evening Of Mediumship - Spiritual
Fife, Scotland |
November 24th 2019
| 18.00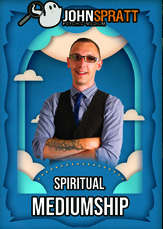 ---

This event is a demonstration of mediumship held at a spiritual centre/church. The event may include opening prayer, inspirational poem, small inspiration talk from John then John will deliver messages from spirit to the audience. 
Take part in an evening of mediumship as TV's astounding international psychic medium John Spratt takes off throughout the UK and Ireland. 
John will invite the spirit world forward, joining the two worlds as one, allowing John to connect with them to provide his audience with compassion and the comfort that their loved ones are always with them. John is renowned for his unique, high energy performances. He is straight to the point and says things as they come. Johns connections have brought love, laughter, and comfort to many. 
Johns outrageous personality combined with his phenomenal connection with the spirit world is sure to leave everyone with a smile on their face. Readings cannot be guaranteed, but John hopes that everyone leaves his events feeling uplifted, knowing that their loved ones are still with them.
Will you be one of the lucky ones as John connects the two worlds as one for this amazing event?
EVENT ORGANISER
Event by "Lochgelly Spiritual Church" 
The organiser may have raffle etc available 
This is a spiritual centre/church 
TICKETS & Details 
Advance tickets are not needed or available 
Entry fee is donation after the event
Doors open 17.40 Start 18.00 sharp 
location is - 37-39 Bank Street, Lochgelly, KY5 9QG